YOU CAN FEEL SAFE AND SECURE WITH WINDOWS FROM CORAL.
Deceuninck, our profile supplier holds all the certification below: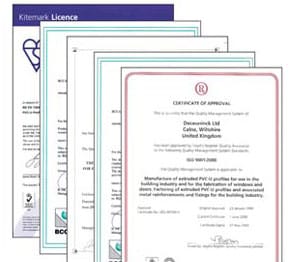 ISO 9001:2000 (Deceuninck Ltd)
NBN EN ISO 9001:2000 (Corporate Management Process)
NBN EN ISO 9001:2000 (Plant Gits-Division 4)
NBN EN ISO 9001:2000 (Deceuninck Compound n.v.)
BS EN 12608:2003
BS 7412:2007
BS 7950:1997
BS 7619:1993
PAS 23-1:1999
PAS 24-1:1999
70MM – THE OPTIMUM SIZE
An increased width of 70mm allows a profile to be narrower (reducing the sightlines) whilst improving on the high levels of structural and insulating performance. Incidentally, a 70mm width also means that fixings from previous windows can be fully covered.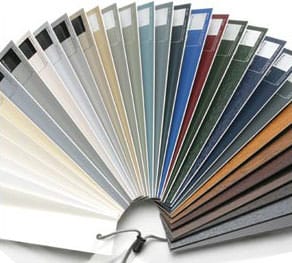 COLOUR FINISHES
Under the new global brand of Deuctone, Deceuninck are able to offer their products in a wide range of foils and colour coated finishes that will complement any installation.
For a more traditional look wood grain foil laminates are available. Whether it's vibrant Golden Oak or rich Rosewood, the effect is a solid, satisfying, realistic appearance that belies the technology and performance hidden beneath.
However if a wood grain or white window isn't what you desire, the Deceuninck patented Decoroc coating system applies a unique, tough and textured oven cured coating which is incredibly durable (scratch resistant) and wonderfully effective. A range of RAL colours are available and subject to quantity, specific colour matching is available.
An increase in width from 60mm to 70mm enables an increased width of the reinforcement chamber of 30%, resulting in a stronger window.
PERFORMANCE
Security
The window has been assessed to BS 7950:1997 (specification for enhanced security performance of casement windows)
Thermal insulation
Whole window 'U' values comply with Approved Document L of the Building Regulations
Lower 'U' values can be achieved
Window energy ratings A to E obtained
For further details contact the Deceuninck Technical Department
Acoustic values
Independent acoustic tests have been conducted on 2800 products providing Rw (C;Ctr) results in the range 32 – 43 dB from a variety of framing and glazing selections submitted
2800 General Features
Please click here for full details of deceuninck window system features and benefits
Simplicity
fully compatible with all standard hardware
clip-fit detail ensures positive fixing of accessories
Inspired design
symmetrical profile concept gives balanced aesthetics
unique modern shape complements classical and contemporary architecture
white colour is RAL 9016
lamination in rosewood and golden oak options
Weather performance
high-performance sealing concept
glazing up to 40mm
Security
rebate detail makes striker plates less accessible
20mm rebate maximises glazing and sash overlaps
hardware can fix directly to reinforcement
Environment
PVC-U can be 100% recycled (see page 5 for more information on Deceuninck's commitment to the environment)
Scale 1:2 – 2800 internally glazed casement window profile section (Click Diagram to enlarge)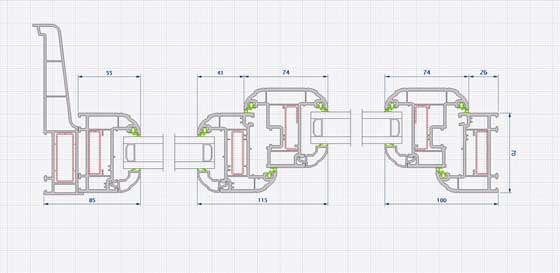 *This offer is only applicable when the goods are installed within 12 weeks of the order date.
**Interest free credit is not available on conservatory, porch, roofline or roof products.
**Authorised and regulated by the Financial Conduct Authority.
See April 2020 offer T&Cs for full details.