Coral Receives Outstanding Report From the CPA!
If you're in Yorkshire or the surrounding areas and looking for a reliable home improvement company, look no further than Coral. With over 30 years in the business, we have been voted top rated service provider by Which? Trusted Trader for our windows, doors, conservatories, orangeries and extensions.
At Coral, we believe that homeowners should be in control of their home improvement projects. To achieve this, we provide homeowners with access to expert advice and resources to ensure they can always make the best decisions for their home. We are committed to helping homeowners understand their options and feel confident in their choices. Our goal is to empower homeowners with their home improvement projects, delivering results that truly satisfy everyone. 
Who is the CPA?
The Consumer Protection Association (CPA) is committed to ensuring that customer satisfaction is maintained in the home improvement industry. To achieve this, the CPA provides an annual customer feedback report. This consists of a confidential survey which is sent to customers following the completion of their home improvement projects. 
Through this survey, customers are asked to score the business on various factors such as professionalism and quality of work. This ensures that customers can provide an honest and accurate opinion regarding the work they have had done. The CPA feedback report helps ensure that businesses in this industry are held to high standards, and customers are always given a satisfactory experience with their projects. We care about the results we receive from the CPA, because they're a testament to the immaculate customer service we intend to provide here at Coral.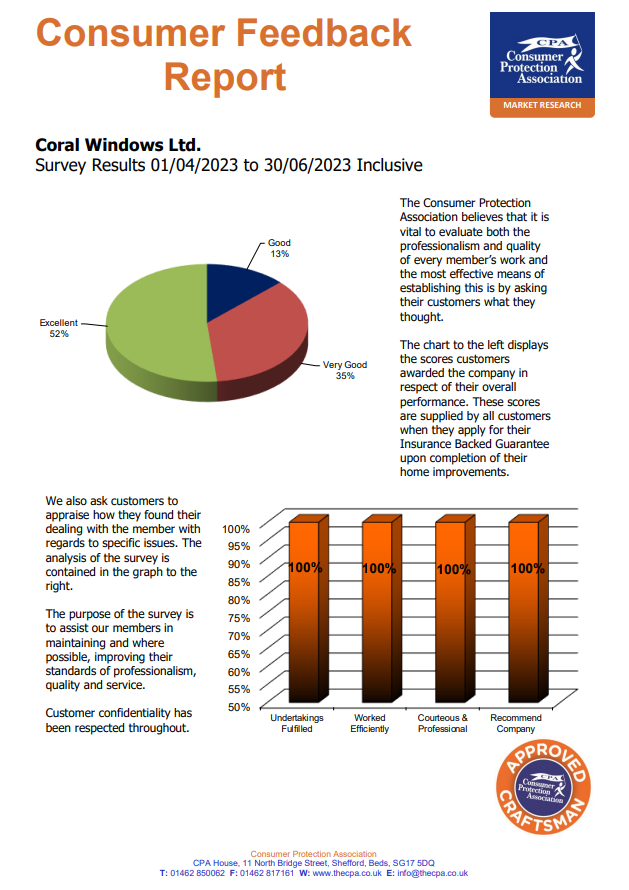 What Do Our Customers Say?
Put simply, the results for this quarter were excellent. Survey results taken until the 30th of June 2023 find that our services were excellent in 52% of cases, very good in 35% of cases, and good in the remaining 13%. We're incredibly proud of how we continue to satisfy our customers- and our results for this time period are a testament to our dedication to our customers. 
52% of our customers rated our services as excellent. 
The CPA also looks at specific areas of our services, to ensure we are delivering a good experience throughout our work. These results are immaculate. Customers rated that in 100% of surveys taken, the undertakings were fulfilled in 100% of cases, we worked efficiently in 100% of cases, were courteous and professional in 100% of cases and 100% of our survey takes would recommend us as a company.
100% Satisfaction in work undertaken, working efficiently, professionalism, and recommendation to a friend. 
This is an incredible result that everyone at Coral deserves to be proud of! Our holistic approach to home improvement, with additional focuses on customer service, value for money and attention to detail have made us a favourite name in Yorkshire. The CPA has therefore rated us as an Approved Craftsman. 
Why Does Our CPA Rating Matter?
The consumer protection association rating matters in the home improvement business because it is an indicator of the quality of work, honesty, and trust that a home improvement contractor has earned in a given area. This rating can help consumers make educated decisions when selecting which contractor to hire, as it provides an objective, independent assessment of their services. If you're looking for one more reason to trust Coral with your home improvement project, there's no better place to look. 
The rating also gives us here at Coral a sense of how our reputation stacks up against our competitors, and can be used as a metric for improvement. We aim to be the best home improvement installer in Yorkshire- and our kind customer service and quality experiences are a testament to this aim. The consumer protection association rating can be vital in helping to safeguard both customers and businesses- and that's why we're glad to have received glowing ratings. 
Contact Coral Windows Today. 
Are you looking for the perfect windows, doors, conservatories, extensions or solid roofs for your property? Then look no further than Coral! Located in Yorkshire and operating in the surrounding areas, Coral provides a variety of double glazed windows, doors, extensions and roofs in classic and modern styles, designed to increase your property value- as well as the thermal efficiency and security of your home. To give your property a facelift, contact Coral today. 
It's easy to get in touch with us. Just fill out our contact form online or call 0800 058 1777 and we'll be happy to help you. We look forward to assisting you on your home improvement journey, and we look forward to hearing from you soon!
Categories: Uncategorised