CPA Customer Satisfaction Results 2021
We here at Coral Windows, have always ensured we put the customers first. Not to fulfil the cliché but because we know that the customer relationship is essential. We of course take immense pride in our top-quality products, and the work that we do, but ultimately it is our relationships with our customers that come first. 
Each year the Consumer Protection Association provides a customer feedback report. Here the CPA sends out a confidential survey to clients after the completion of their home improvements. Customers then score the business based on various metrics including professionalism and quality of work carried out.
2021 may have seen an improvement to 2020 for many but it has still been a challenging year. All of our staff here have worked to ensure that our high standards of customer care have not wavered even in the busiest of times. See the link below: 
Coral-Windows-full-2021-email-1 (1)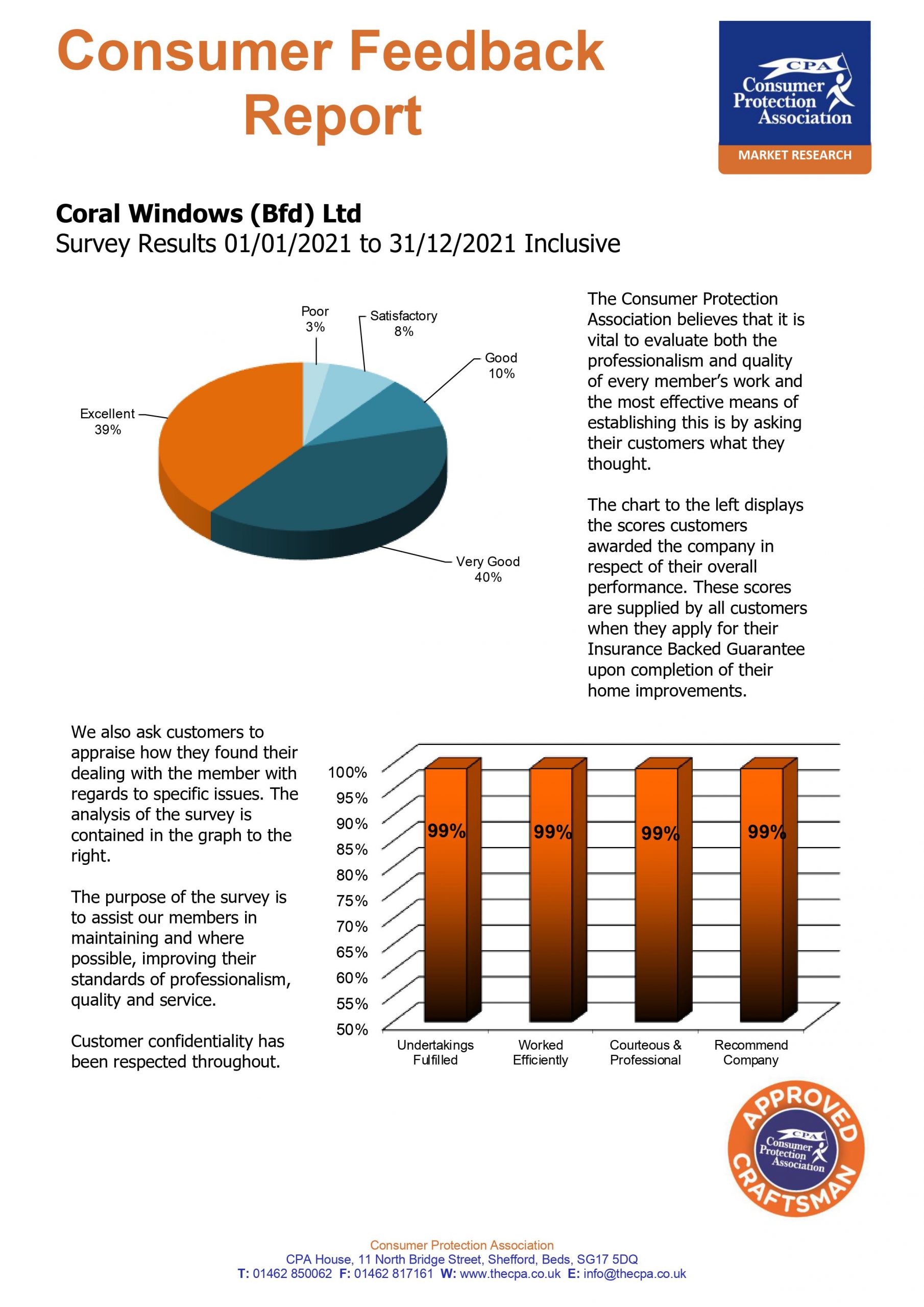 How Did We Do?

Despite being a trying year for many, we're proud to say that the feedback we received has been exceptional for 2021. From the 1st of July to the 30th of September, 97% of customers have scored our overall service as 'satisfactory' to 'excellent'.
We are delighted to hear that the hard work and dedication of our staff, despite these difficult times, has paid off.
The Results
The CPA also asked customers to rate our service on the following points.
Were the appropriate undertakings fulfilled?
Was the work carried out efficiently?
Were the team courteous and professional?
Would you recommend the company?
In every category, Coral Windows achieved 99% satisfaction. A result we are very proud of. We're endlessly grateful to all of our loyal customers and dedicated team for their continued support across this last year in particular. Thank you.
Want to Find Out More?

If you're at all curious about the products and services, we offer, and you'd like to begin your home improvement journey with us then contact us now. Fill out our online contact form and our team will be happy to discuss our full range of products including our doors, windows, conservatories, extensions and replacement roofs. 
Alternatively, you can use book a free, no-obligation appointment with one of our team, or request a call back to talk directly to one of our professionals. We are excited to start working with you!
Categories: CPA, Uncategorised