How Long Do Composite Doors Last?
Coral Windows boasts a rich history as a reliable provider of home improvements in Yorkshire and throughout the surrounding areas. Our outstanding reputation is reflected in our top marks from renowned organisations such as Trustmark, Which? Trusted Trader, Feefo, and Checkatrade. We take pride in offering double glazing installations that are not only of the highest quality, but are also built to stand the test of time. Our team of skilled professionals is committed to understanding your unique style, budget, and requirements, ensuring that we deliver the perfect home improvements tailored to your needs. Whether you're looking for new windows or a captivating conservatory, Coral Windows has the ideal solutions to transform your home.
We often get questions about the range of home improvements we offer. Here at Coral, we believe in complete transparency surrounding our range of home improvements, empowering homeowners with the knowledge they need to make the perfect choices for their homes. Composite doors are becoming increasingly popular in recent years and, with the help of modern technology, perform better than ever. One of the most common questions we get surrounding our beautiful range of composite doors is: how long do composite doors last?
What is a Composite Door?
A composite door is a popular choice for homeowners seeking a stylish, secure, and durable entrance solution. Unlike traditional wooden doors, composite doors are made from a combination of materials, such as uPVC, wood, insulating foam, and glass-reinforced plastic (GRP). This combination of materials creates a door that offers the best of both worlds: the aesthetic appeal of wood with the low maintenance, weather-resistant qualities of uPVC.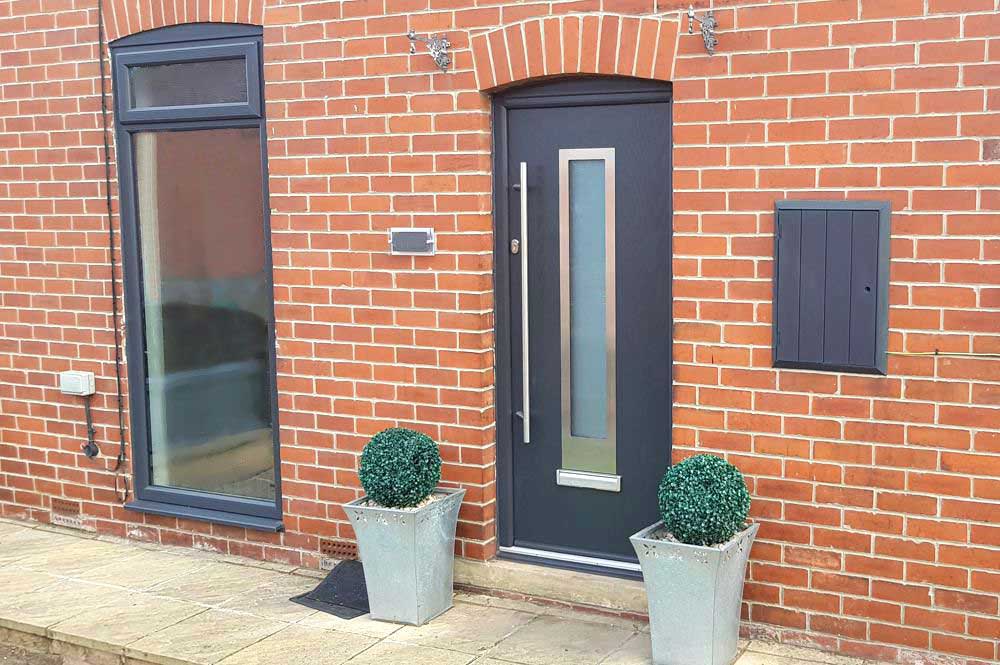 Composite doors are known for their exceptional strength and durability, providing excellent security against intruders. They are also energy-efficient, featuring a dense foam core that helps to insulate your home and reduce heat loss. This makes them perfect for the savvy homeowner trying to save money on those pesky energy bills. 
Composite doors come in a wide range of styles, colours, and finishes, allowing you to find the perfect design to complement your home's architecture. With their longevity, security features, and versatility, composite doors are an excellent investment that can enhance the resale value, energy efficiency, security and comfort of your home.
How Long Do Composite Doors Last?
Composite doors are a great investment for your home as they are designed to last for years. On average, you can expect your composite door to last up to 45 years or more with proper maintenance. Not only does this mean a big savings in terms of replacement costs, but it also means improved energy efficiency and a better looking home for longer! Composite doors are a great choice for homeowners who want long-lasting value when it comes to their home improvements. 
When it comes to maintenance, composite doors are pretty easy to look after.   Not only are they highly durable and resistant to the elements, they also require minimal maintenance. A quick wipe down with a damp cloth is all they need to keep looking their best. Composite doors are designed to last for years to come, even through harsh weather and constant use. If you're looking for a door that's easy to maintain, composite doors are your best bet. 
Don't be fooled by their low price tag- composite doors are stylish, too. These doors are available with a range of different finishes, so you can find one to perfectly suit your home's decor. Composite doors provide a contemporary, polished look that makes them perfectly suited to modern homes. However, many composite doors are also available with woodgrain finishes, emulating the look of timber. This style of composite door can be perfect for more traditional homes. 
Contact Coral Today. 
Looking for a bespoke range of composite doors to help improve your home for years to come? Look no further than our range here at Coral. Our composite doors are designed to perfectly compliment any property, whether modern or traditional, and come with a smart multi-point locking system to ensure your home is kept secure. 
Contact Coral today by giving us a call on 0800 0581777, or visit us at one of our beautiful showrooms in Bradford, Huddersfield, Wakefield, Leeds or Sheffield. We look forward to hearing from you!
Categories: Advice