What Type of Patio Door is Most Energy Efficient?
Coral is the home improvement provider of choice for customers in Yorkshire and the neighbouring areas. We offer a comprehensive collection of windows, doors, conservatories, orangeries, and extensions – all backed by our 30 years' experience. Our #1 ranking on Which? Trusted Trader confirms our company as the premier service provider in the region. When you're looking for reliable home improvements, you can depend on Coral.
At Coral, we understand the importance of providing our homeowners with the best advice when it comes to their home improvement needs. That's why we dedicate time to answering one of the most common questions many homeowners have: What type of patio door is most energy efficient? We want every homeowner to be confident in their decision, so we've done our research in order to provide valuable insight on which types of doors will give you the highest quality and cost-effective efficiency. From sliding patio doors to French doors, we'll explain the pros and cons every homeowner should consider!
What is a Patio Door?
Patio doors are large, floor-to-ceiling sliding glass doors commonly found in homes as a way to separate indoor and outdoor spaces like patios, decks, or porches from the main house. Often seen in open-plan homes or in homes with large windows, patio doors typically create a modern flair for your property, and provide stunning views of the outdoors.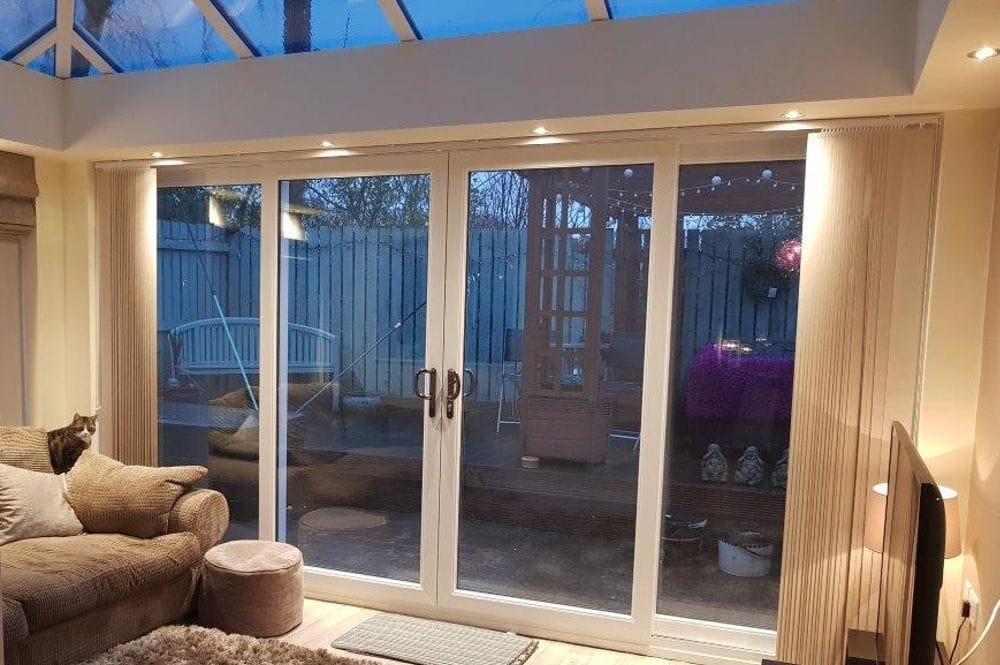 Patio doors usually come in two main styles: those with one fixed pane and one sliding pane, or two sliding panes that move in both directions. Depending on the size of the openings and the type of hardware chosen, they can come in various styles and configurations- such as French doors, with either hinged or foldable panels that open outwards. They are also available with more modern features such as keyless locks and automatic sensors. 
Apart from providing extra outdoor space to a home, patio doors are important for security as well. Most modern versions are super sturdy and break resistant due to their tempered glass construction, which means they can't easily be broken into by intruders. Plus, most have tall frames that can't be easily climbed over by anyone who might try to gain entry into your home without permission. 
In addition to their many practical benefits, patio doors can also be visually appealing and are great for bringing natural light into the home. Consider installing a patio door if you're looking for a way to showcase your outdoor area in style!
What Type of Patio Door is Most Energy Efficient?
When you're thinking about purchasing a new patio door for your property, choosing the most energy efficient option should be at the top of your priority list. Energy efficiency is more important than ever, and with energy bills on the rise, it's no wonder homeowners are looking to install the most energy efficient options on the market. For savvy homeowners looking to improve their carbon footprint and energy usage, thermal efficiency is very important, too. Good quality energy efficiency can reduce the energy it takes to keep your home a comfortable temperature- ensuring heating your home doesn't have to cost the earth.

The type of patio door you choose will have lasting effects on your home's energy efficiency and your monthly utility bills. The best choice for an energy efficient patio door is a sliding glass door. Sliding doors offer maximum airtightness, and do not require additional space to be opened fully, unlike hinged doors, which can use up to four times as much space as a sliding door. With tight-sealing frames, these doors are able to provide excellent thermal protection to your home. 
However, other types of patio door can offer impressive insulation as well. uPVC French Doors, aluminium bifolds and uPVC bifolds can also be considered energy efficient options. Both aluminium and uPVC offer outstanding thermal efficiency for any property, making them good insulators for your home. With large double glazed surfaces, the other styles of patio doors are energy efficient in much the same way as their sliding counter parts- trapping heat between their large panes, and allowing plenty of natural light to enter your home.
The right glass can also play a role in the energy efficiency of your patio door, so consider using double or triple glazing options, like those we provide at Coral. These options help to reduce energy loss and improve insulation. As a lot of different kinds of patio doors feature large glazing surfaces, it's no wonder that double or triple glazing improves the thermal efficiency of these spacious doors!
Making sure your patio door is properly installed is important as well. A gap between two pieces of framing can cause air infiltration, which will decrease the efficiency of the door. Make sure to use installers that you trust- the product you buy is equally as important as the company you trust to install it.
Looking For Triple Glazing Services Around Yorkshire?
Are you looking for patio door options for your home in Yorkshire or the surrounding regions? Coral offers exceptional double and triple glazed insulations that are sure to meet your needs. Whether you're looking for an aluminium bifold door, uPVC bifold door, uPVC French door or uPVC patio door, we would love to help you! Get in touch with us today by filling out our online contact form or give us a call at 0800 058 1777 – we're ready to hear from you.
Categories: Advice