Adding space with an orangery
Traditionally used to create a Mediterranean growing environment for oranges and fruit trees while protecting them during the winter months orangeries became popular with fashionable residences from the 17th century onwards.
Orangeries have a unique style that makes them a chic alternative to the traditional conservatory or extension. At Coral Windows and Conservatories, we can provide a totally personalised service that allows you to create a design relevant to your requirements and design choices but the classic element of an orangery is as follows. An orangery has a flat roof with a glazed lantern set in its design, this could be one or several depending on the size of the build. It also features built up walls and glazed windows.
Today an orangery is becoming a popular choice when it comes to adding space to your home due to the clever mix of design elements that provide a light airy space with a solidly built structure. Basically, an orangery can provide a more long-lasting insulated solid built construction like that of an extension but it also provides the added light that a conservatory traditionally brings, the best of both worlds and added space.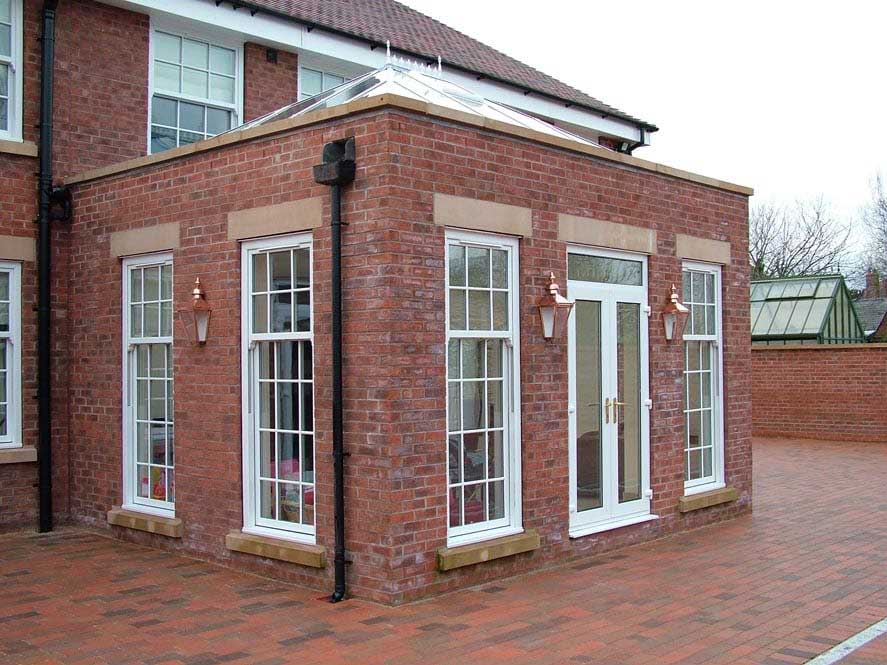 Before completing any alterations and improvements to your property it is vital that you submit any relevant paperwork/ documents to the correct planning and building regulators. At Coral we have many years of experience when it comes to home improvements and our expert team will be more than happy to discuss ideas and point you in the right direction.
We can provide lots of examples and ideas to help you complete a design totally relevant to how you wish to use your orangery and what details and features you wish to incorporate, while at the same time considering your existing property.
Can an orangery work on a new build property?
An orangery can add space to any property so long as it fits within the building regulations. New or old, contemporary or traditional there are so many design options suitable to work cohesively and seamlessly with your existing property or add a bold contrast creating a statement look.
Whether it is window styles and frame colours, door options such as Bi-Fold or French. Or whether it is scale and how many lanterns to incorporate we have a design that will be just right for your home.
Deciding on how to use your added space might be the hardest decision or it might have been obvious from the start. Whatever your new space is used for, dining, socialising, playing or studying you can be sure that an orangery from Coral will provide you with a seamless extension to your home.
As standard features in all our products, by adding Coral windows and doors, you can enjoy added security, reduced outdoor noise levels, improved energy performance for your home and top quality materials that will be long-lasting. More than just added space for your family, it's peace of mind too.
Categories: Advice, Home Improvement, Products