How a Lean-To Conservatory is a Great Choice for Your Home
Why Choose Lean To Conservatories
Simple, sleek and stylish, a classic design that will enhance and develop your home, creating a new living space and a new style of living. Here's what you need to know about Lean- To conservatories.
Conservatories come in all shapes and sizes but a Lean-To acquires its name from the fact that it is designed to lean against an existing wall of your home.
In the majority of designs, the conservatory will lean against an exterior wall creating an added living space that can be opened up onto an outdoor area creating an extended space that bridges the gap between indoor and outdoor living.
Some Lean-To conservatories lean against an existing wall but the internal space is opened up creating a seamless extended living area often with doors leading onto a garden.
For more information, please get in touch with our team today. They can provide you with any advice you need and answer all of your questions.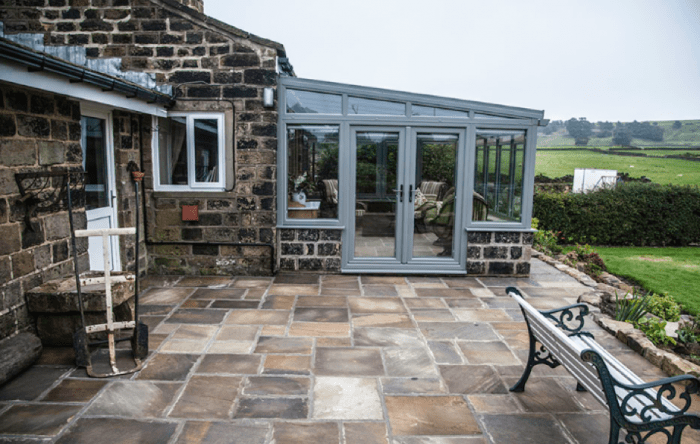 An Excellent Service with Coral
When it comes to making changes to your home it is always good to check your ideas with us first to ensure you have the best support for your home improvements as well as all relevant building control.
A Lean-To conservatory really is a great choice though, especially if you know height restrictions might be an issue as the designs feature low pitched roofs.
Here at Coral Windows and Conservatories we have many options when it comes to designing a Lean-To conservatory for your home. You can be reassured that we will provide a professional service, unbeatable priced tailored, unique design completely relevant to your home, your requirements and to work alongside your existing living spaces.
Below you will find a few ideas to help you when considering how a Lean-To conservatory can work for your home and family.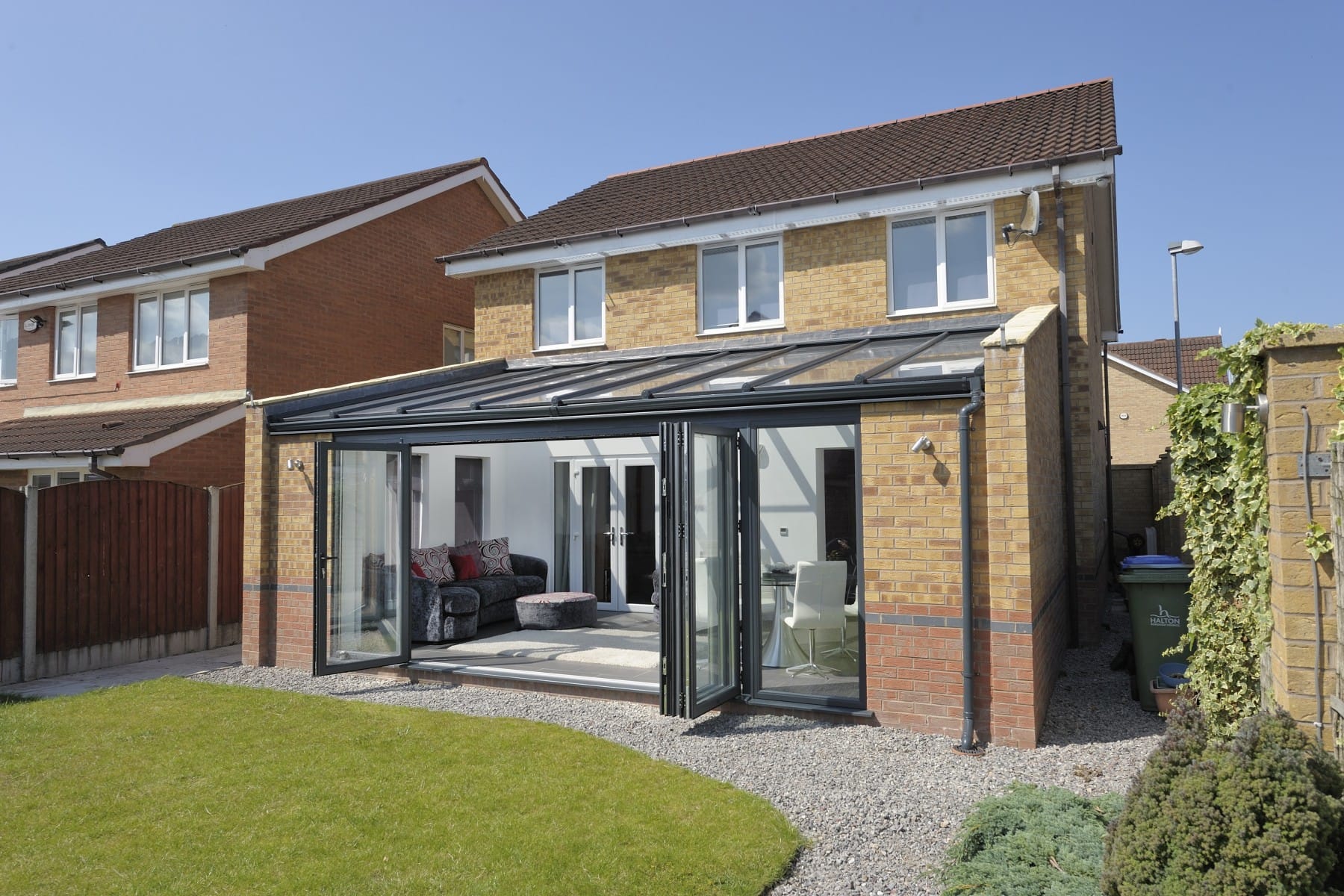 Designed for A Selection of Purposes
The first decision you must make is how you would like to use added space in your home, maybe the decision has already been made, but if not here are some ideas to consider.
Study or studio
Play room or teenage space
Dining area
Extra sitting room
Extension of already existing living space for example, kitchen
All year round garden room
Traditional or modern Lean To Conservatories
Whether you live in a traditional house, a new build home or a contemporary property a conservatory can add that valuable added living space we all desire.
Consider how you want the design to look, would you like it to blend effortlessly with the original property using the same building materials and colours? Or would you like to make a feature of your Lean-To conservatory by creating a bold contrast using contrasting but complementary construction design and materials.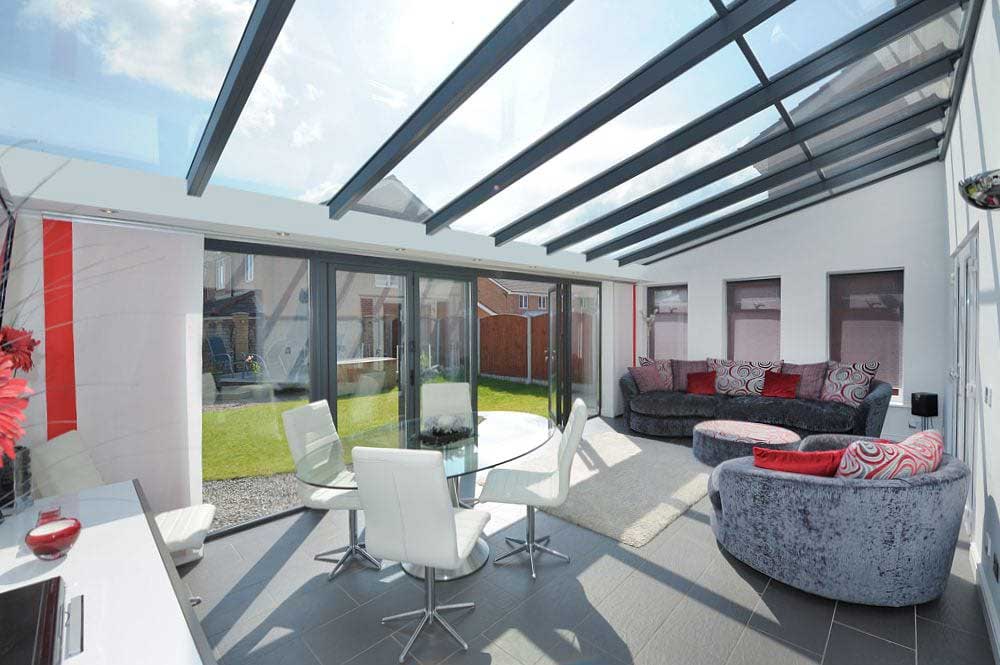 Bespoke Lean To Conservatory Styles
Here at Coral we can help you develop a design that will really suit your existing property. Whether you want to add a small conservatory or a large wrap around design we will listen and talk about ideas creating plans together.
Think about how you would like to use your new space and this will help with features such as which windows and doors would best suit your design ideas.
Would you like a classic look with patio doors or French doors that open up onto the garden, or maybe a Bi-Fold door would bring a new style of living that really lets your new living space become an extension into the outdoors.
Coloured Lean To Conservatories
Windows and door frames don't have to be white, and with so many colour choices and styles you can really add a unique look to your new living space. With Anthracite Grey creating a modern look or Chartwell Green creating a classic look with an updated twist, you really can make your Lean-To conservatory a feature.
Consider your homes age or the materials it is built from, old stone looks great with colours such as grey, black, green or cream and white and traditional brick looks smart with crisp white and wooden options. Whatever you are thinking, Coral have lots of experience in helping people to make the right decisions.
Once you have decided upon a design, Coral will install your Lean-To conservatory with a highly professional expert team, leaving you with added value to your home and a new light, stylish living space to enjoy.
Lean To Conservatory Prices, Yorkshire
If you would like to find out more about our range of conservatory styles and how lean to conservatories can enhance both the look and performance of your Yorkshire property, then get in touch with the Coral team today.
We can provide you with personalised prices based on your exact projct specifications. You can either give us a call on 0800 669 955 or fill in our online forms with any questions you may have.
Categories: Categories