Conservatory, What Type Of Conservatory Is Best For Me?
What Type Of Conservatory Is Best For My Home? – Coral Windows & Conservatories
A conservatory has the distinct ability to totally transform your house. Providing you with more square footage, maximum natural light and a cool connection between indoors and out, conservatories are an excellent way to improve your quality of life at home, as well as adding value.
Many people install a conservatory when their home begins to feel a little snug. If your family is growing but you're not quite ready to relocate, a glazed extension is a great way to create space without parting with too much cash. Others build a conservatory so they can enjoy their garden, even when it's raining. Whatever your reasons for choosing a conservatory, a high quality installation is a worthwhile investment for many homeowners.
There are several types of conservatory to choose from. Various shapes, sizes and configurations means you can select the perfect style for your home, but of course this presents a few problems when trying to narrow things down! Every homeowner should consider their conservatory an investment, so it's very important to spend time selecting the right installation.
If you're on the hunt for the best conservatory for your home, you can speak to a specialist at Coral Windows & Conservatories – we'd be delighted to answer your questions and make some suggestions! You can get in touch by calling 01133 996 030 or by visiting one of our showrooms in Bradford, Leeds, Huddersfield or Wakefield. Of course, if you're a little pushed for time, you can simply read on to discover a taster of our expert advice. Here's a summary of the six most popular types of conservatory, and why each could be the perfect solution for your home…
Edwardian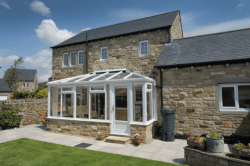 An Edwardian conservatory is ideal for traditional properties, though its square-front, strong lines and airy feel makes it a great choice for some contemporary homes, too. Edwardian conservatories offer optimum floor space, so they function well as spaces that require a lot of furniture, like a dining room. The pitch and direction of the roof can be altered to fit with any type of property, along with the colour of the frame. This means you have plenty of flexibility with the final look and feel of your conservatory.
P-Shaped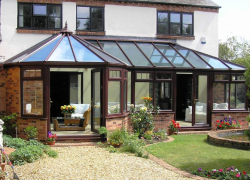 P-shaped conservatories are perhaps the most versatile. Their configuration means they create a lot of space while retaining neat and tidy proportions. If you're particularly proud of your garden and don't want your conservatory to encroach on it, choose a p-shaped style, which is much less likely to interrupt your flower beds! P-shaped conservatories are extremely practical, combining the two popular designs of Victorian and Lean-to. It can be created as either left or right handed, therefore fitting seamlessly into your space.
Victorian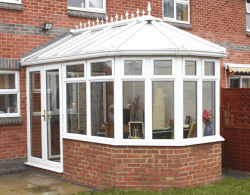 A Victorian conservatory is a real classic. Its elegant modelling boasts an angled roof and soft facets, creating a sense of traditional design. Victorian conservatories are characteristically spacious with a bay format, which creates charming, panoramic views of the garden. Victorian elegance is channelled through intricate design features, such as finials, cresting and optional decorative glass. We recommend Victorian conservatories to homeowners with a taste for the traditional, especially if their home itself is a period property.
Apex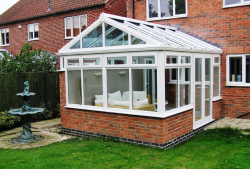 Apex conservatories, often referred to as gable-fronted, are a variation of Edwardian. The long ridge of apex roofs brings increased height to all areas of the room, so it's a great choice for space-conscious homeowners. Apex conservatories are typically bright and airy, complemented by the traditional 'sunburst' glazing on the front of the gable. If you are looking for a very attractive, spacious conservatory, the apex style should definitely be considered. We also advise our customers that existing conservatories can be improved by replacing the roof with an apex design, which is sure to bring more style and space.
Lean-To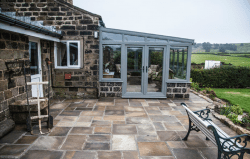 Lean-to conservatories are popular in all corners of the globe, with a particular focus on the Mediterranean and warm regions, as they are the best installation for maximising on light. The lean-to design is sleek and simple; it is usually a square or rectangular, with the longest side running across the house, and the sloping roof giving the impression that it's leaning. We recommend lean-to conservatories to homeowners requiring a simple solution that makes the most of sunlight.
Solid Roof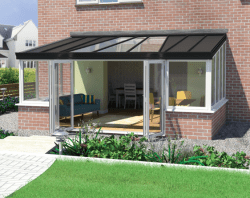 At Coral Windows & Conservatories we also offer solid roof extensions, which are often a more suitable option than fully glazed installations. This solution is growing in popularity as homeowners realise the potential. These designs combine solid roofing and glazing, making for a stylish, spacious extension that flows seamlessly from the main part of the house. At Coral, we design each extension to blend seamlessly with the rest of your home, configuring the glazing and additional roof windows to your individual requirements.
Each Coral conservatory offers excellent durability, security and energy efficiency, all delivered by our experienced workmen who manufacture every product. Every conservatory comes complete with secure locks and toughened glass, as well as a lengthy guarantee that safeguards your purchase.
Whether you're on the hunt for a classic conservatory for your traditional property, a contemporary installation for your modern house, or a clever blend of styles for your unique home, at Coral Windows & Conservatories, we can manufacture and install a spot-on solution. You can find out more about our conservatories here, or you can call 01133 996 030.
Categories: Advice, Decorating Tips, Home Improvement, Products, Uncategorized