How to choose a window cleaner?
Coral Windows asks: how to find a window cleaner
Picture the scene, you've had your new Coral Windows installed, and you want to keep them looking as good as the day they were fitted. Here at coral we're experts at helping keep glass looking its best and we've given you a surefire checklist to ensure you keep your new Coral Windows or Conservatory looking as good as new for years to come.
Sparkly clean windows are a sure fire way to improve the look of your home. They give your house a fresh look, a welcoming feel and allows oodles of natural sunlight to come flooding through. Doing a DIY job can take a huge amount of time, and even after you've managed to clean just the downstairs windows you can often find they still look streaky and patchy. This is why most people find it a worthwhile investment to have a trustworthy, reliable window cleaner who has the products, experience and equipment to do a superior job.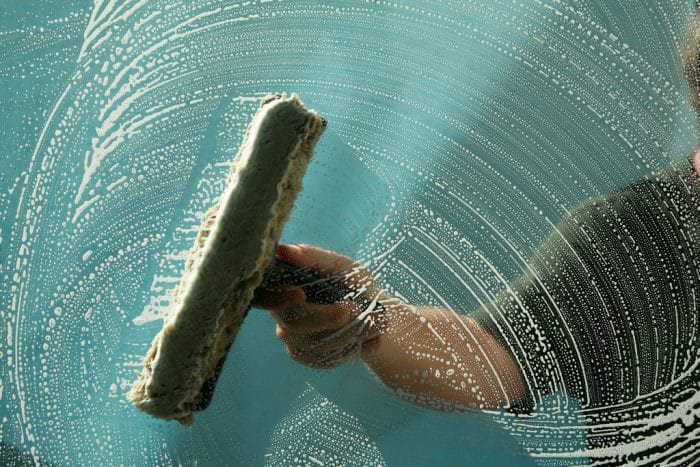 But with so many window cleaning companies out there, how on earth do you choose one?
What should you be looking for when choosing a window cleaner?
Choosing a window cleaning company can be a tricky business especially if you live in a place where there are numerous companies to choose from. There are several factors to take into consideration so here is a quick fire guide to help you through that decision making process.
There are three main things to consider – Safety, professionalism and price.
Safety of employees will be a priority for any reputable window cleaning company. Risks are high when it comes to cleaning windows and therefore it is essential they have liability insurance. If you are at all unsure whether they have it, request to see a copy and if they can't produce the goods then do NOT use them.
If the window cleaner has an accident or injury such as falling off his ladder whilst he's on your property and doesn't have liability insurance, then it may well become your legal responsibility. Or think of it this way, if he drops a pole or ladder whilst cleaning your windows on your lovely new car and he doesn't have any insurance who will be forking out for the repair bill? You guessed it. You. Any window cleaner worth his salt will happily let you see any relevant documentation to give you peace of mind.
What system do they use to clean windows? Many window cleaners now are using the water fed pole system due to health and safety regulations because the pole system is much safer than using a ladder on the higher floors. And because of the money needed to be invested in the equipment for the water fed system (the start-up can cost thousands of pounds), it gives you some peace of mind that your window cleaner is more than a local lad with a dodgy ladder and a dirty sponge trying to make a few quid.
Professionalism
The vast majority of window cleaners are professional, hard working, reliable and value their customers but as with any profession there are cowboys out there and the last thing you want is to get ripped off by shoddy workmanship and deceptive practices.
A good indicator of a professional company is if they wear a uniform and have a well-kept, clean vehicle with a company logo and use clean well looked after equipment. This shows they take pride in what they do. A company website also points towards a reputable and established operation and often provides further information and customer reviews.
Most people find it important that a window cleaner is reliable and turns up when they say they are going to. It could be worth asking them if and how they would get in touch if they need to reschedule to a different day and vice versa how flexible are they if you need to change days. Any good window cleaner will have open clear channels of communication and arrange a mutually convenient schedule. It's important to know when they are coming as you may need to unlock side gates for access to the rear of the house and you definitely don't want to be caught short without a towel when you get out of the shower and go into the bedroom (red face).
Remember these people have access to the exterior of your property and are able to look into the interior of your home so it's important you have trustworthy people that you can rely on not to be eyeing up your possessions through your windows.
Other questions you may want to ask are how experienced are they? What training have they had? How many years has the company been trading? Word of mouth is a truly great thing so asking your local friends and neighbours whom they use is a great way of helping you to source a reputable window cleaner.
Price
There are a few things to consider when thinking about the cost of hiring the services of a window cleaner. Prices can vary a great deal according to location, frequency, size of your house and the number of windows you have.
Cheap isn't always the best. It's important to make sure there are no hidden costs as sometimes a low quote on the phone can seem great value but then you find there are added extras which bump up the price. It's always best to agree a final price and have a clear understanding of what is included. Is the given quote for the glass only or are the cleaning of the frames, edging and sills included in the overall cost?
Be prepared to ask what the payment options are. Do they take card? Can you pay through BACS? Beware of someone who asks for cash in hand only as this may indicate underhand tax declarations which is a sure sign of a less-than-professional approach to the work they do.
So there you go, all the information you need to make an informed choice on how best to decide which window cleaning company to give your hard earned money to. Follow this guide, do your research and you won't go far wrong in finding a professional window cleaning company that gives you a convenient and cost effective service and dazzling sparkly clean windows.
Categories: Home Improvement